Walk-In Chiropractic
Back Relief
Best Exercises for
Chronic Low Back Pain
Based on simple statistics, we've ALL had (or at least will have) some form of low back pain (LBP) at some point in our lives.  The term "chronic" applies to LBP that's been present for at least three months. It has been consistently reported that LBP becomes increasingly difficult to resolve when it persists for three or four months.  This week's topic is about which exercises have been found to BEST address chronic low back pain (cLBP).
Many studies have investigated the effect of stabilization exercises in patients with chronic low back pain.  In a review of six recently published studies that followed patients over a 4 – 16 week time frame, investigators noted that participants who engaged in exercise reported improvements in pain and disability that were not seen among those in the non-exercise control groups.  Additionally, one study also looked at changes in bone density between both groups and found increased bone density in the exercise group and a reduction in bone density among participants who refrained from exercise.  Another study reported waist isometric strength increases in their exercise group.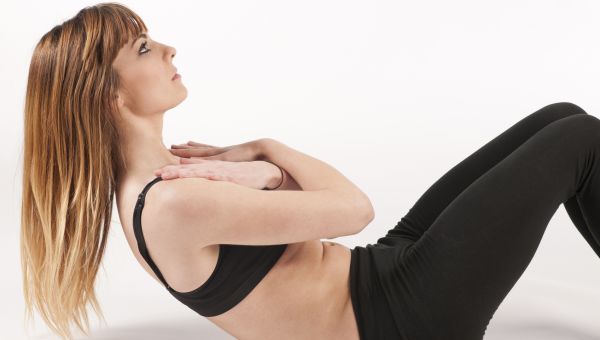 One study found the cross-section of the multifidus (MF) muscles – the deep low back, fine motor muscle groups that is considered to be one of the most important targets for low back strengthening significantly increased after eight weeks of exercise.  Another study observed the same effect for the deep transverse abdominis muscles.
These and other studies clearly show that core stabilization exercises can improve pain and disability scores and patients with cLBP, while those who do not exercise do not improve and in fact, may actually worsen!  So, what are core stabilization exercises?
Here are some great floor core stabilization exercises (try holding for 5 to 10 seconds, repeating eight to twelve times whatever is tolerated):
Abdominal Hollowing:  Lying on your back with knees bent, tighten your stomach by pressing your elbows down.
Curl Up:  Lying on your back with knees bent, tilt your pelvis to flatten your back.  Raise your head and shoulders from the floor.
Diagonal Curl Up:  Lying on your back with knees bent, tilt your pelvis to flatten your back.  Raise your head and sholders, rotating to one side as your shoulder blades clear the floor.  Alternate side rotation with each repetition.
Bridge:  Lying on your back with knees bent, slowly raise your buttocks from the floor, keeping your stomach tight.
Dead Bug:  Lying on your back with knees bent, tighten your stomach and slowly raise one leg as you raise the opposite arm over your head.  Keep your trunk rigid.  Alternate side with each repetition.
Superman:  On all fours, tighten your stomach and raise one arm and extend the opposite leg out straight (like Superman flying).  Repeat on the opposite side.
Forward Lean:  Sit with straight back, tighten stomach and lean forward at hips.
Prone Straight Leg Raise:  Lie on your stomach with a pillow under your hips for support. Support your head with your hands.  Keeping your leg straight at the knee, raise your leg up as high as you can without pain. Repeat on the opposite side.
If you'd like a FREE illustrated chart of these exercises, plus 4 more BONUS exercises not seen above, enter your name and e-mail address in the form below.  We'll send you a copy!  Perfect for printing and posting to your "workout wall".  We respect your privacy and will NEVER share your information with a third party.
---
---
Share the love on Facebook!  If you think your friends and family could benefit from this article, click the Facebook "share" button at the top of this page.
---
Related Articles:
The #1 Self-Treatment MISTAKE That Makes Back Pain WORSE! Hint: You are very likely doing this!. . .

Causes of Back Pain You Don't Normally Think About:  Once a doctor can rule out the "dangerous" causes of LBP, the "KEY" form of treatment is giving reassurance that LBP is manageable and advise LBP sufferers of ALL ages (especially the elderly) to. . .

How Statins May Be Causing Your Back Pain:  Not long after FDA approval was granted in 1987, patients taking the new statin medications began complaining of muscle pain, sometimes so severe that the pain remained permanent after they stopped taking the medication. . .
---
We have taken the
Chiro-Trust Pledge:

---


Dr. Dana Williamson is a chiropractor who has been helping relieve back pain and neck pain of the residents of Mechanicsville, Richmond, Hanover, Henrico, and Glen Allen since 2001.

To schedule a free, no obligation consultation with
Dr. Williamson in-person or by phone,
click the button below:
---
Integrative Regional Medical Center now offers
Regenerative Medical Treatments in our office!
Click the image below to learn more
---
Exercise is a great place to begin your journey back to health.
Take advantage of our free 7-Day pass to
Anytime Fitness in Mechanicsville.

Fill out the form below and we will e-mail it to you.
We value your privacy and will NEVER share your information.
---
Help us help you!  We welcome your comments and questions below.